ANNUAL OYSTER ROAST 2018

Date has been moved to April 14
MEMBERS ONLY EVENT

The Annual Oyster Roast/Crawfish Boil is on 

April 14, 2018

 at the McCall's at 234 Melrose Circle in Tryon.  The gathering begins around 

4:30

 PM with oysters and crawfish to start coming out around 6 PM.
Bring something for the food table, anything, it always works out. We will have beer, wine and water  available but if you want to bring anything, fine.  Bring folding chairs if you like.
If you want to park at the house, drive British.  All non-Brit cars park in the Congregational Church lot just past the entrance to Melrose Circle.  Its a short nice walk to the house on a pretty day. You can drive in to drop off food then park at the church.  We will try to have some "taxi/limo" service if you need it.
Stay as long as you can to gather around the campfire.  RSVP welomed  but we always seem to have about the same size group.  Our e-mail is billandbeckymccall@yahoo.com and phone is 828-859-5590 if you want to respond or have any questions.  Look forward to seeing you all.
Bill and Becky
Great Scot British Car Show May 26

Join us for an exciting and unique British Classic Car Show event on Memorial Weekend Saturday, May 26th 2018 on the mall of Furman University, Greenville, SC.
Savannah Georgia Road Trip

Tentatively planning late Jan through early Feb 2019
MEMBERS ONLY EVENT
 For those of us who have made this trip before there will still be a flexible itinerary, with plenty of things to do. We will search out places we have enjoyed in the past and continue to seek out new places of interest.
More information will be forthcoming as we get close to the dates.
STAY TUNED FOR MORE NEW EVENTS
COMING SOON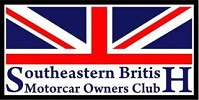 ---