Soup and Shoot Event
  November 4, 2017
At the Larry & Donna Diaz Ranch
204 Shamrock Drive, Chesnee, SC 29323
Bring some homemade soup or a dish to share.
Schedule of events are as follows:
| | |
| --- | --- |
| 4:00 PM | Plan on meeting at the Diaz ranch to participate in the shooting range experience. Bring your own pistol and ammunition. Strict gun shooting gallery rules will be enforced. Bring ear plugs if you have them. |
| 5:00 PM approximately | Those who did not participate in shooting start to wander in for the social and soup. |
| 6:00 PM approximately | Soup tasting and other culinary delights to begin, ends when last person leaves. |
If you have any questions or need something please contact Larry or Donna Diaz at email landdiaz@chesnet.net or call 864-461-9466; or Email: sbmoc01@gmail.com.
HOPE TO SEE YOU
Directions:
If coming from west, find your way to Highway 11. Go to junction of Parris Bridge Road, go straight 2.2 miles. Turn right onto Henderson Road, go 0.1 miles and turn right onto Townsel Road. Go 0.4 miles to second right, Shamrock Road, turn right, destination on left. If coming up highway 221 turn left onto Highway 11 in Chesnee. Go 1.6 miles to Henderson road and turn left. Follow direction above off of Henderson road.
XXXXXXXXXXXXXXXXXXXXXXXXXXXXXXXXXXXXXX
Hickory Knob Experience
November 6 to 10, 2017
1591 Resort DR | McCormick, SC 29835
| Phone: 864-391-2450 | Toll Free: 800-491-1764 | Fax: 864-391-5390 | hickoryknob@scprt.com
This  is our annual trip to Hickory Knob State Park for a week of fun and relaxation. Most people usually get there Monday afternoon and leave Friday morning. Your welcome to come for the whole week, one day or whatever works for you.  Call now and reserve your room or cabin.  Check out their website for more details: http://southcarolinaparks.com/hickoryknob/introduction.aspx
Hickory Knob has 2 room cabins with a full kitchen and they also have motel rooms. Whatever works for you. The putting green is just in front of the cabins and we've figured out how to turn on the lights at night.  Activities during the week include playing golf, skeet shooting and playing pool. The golf course here is really nice and the price this time of the year is $1 per hole which includes a cart. We play best ball so even if you're not too good a golfer it doesn't matter.  The ladies make excursions to some shopping but they're welcome to participate in any of the activities. Plenty of hiking trails.
Every night weather permitting we gather around a fire. The local raccoon usually comes around looking for food. Also the local ghost visits us. Ask Jerry about who flushed the toilet.
Usually everybody brings some food that we share. Every night someone makes some food that's shared. Breakfast is also another event with different people bringing some food to share. Once it gets closer to the date we seem to coordinate the food  part.
---
XXXXXXXXXXXXXXXXXXXXXXXXXXXXXXXXX
SBMOC Christmas Party
   Friday,  December 1, 2017
Demetre's Gourmet Grille & Bar
1384 E Main St, Duncan, SC 29334
Please note that this years party is earlier than usual.
More details to follow once we get closer to date.
XXXXXXXXXXXXXXXXXXXXXXXXXXXXXXXXXXXXXXXXXXXXXXXXXXXXXXXXXXXXXXXXXXXXXXXXXXXX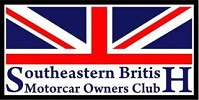 ---